Thigh Lifts in Virginia Beach
Sometimes as a consequence of substantial weight loss or natural aging, the development of excess skin can occur in a portion of the inner thigh. The thigh lift procedure is designed to remove this unwanted skin and restore a smoother contour to the thigh area.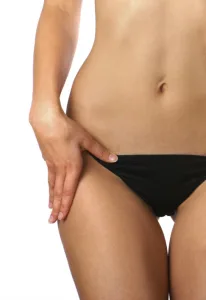 There are three options concerning the thigh lift procedure that pertain to the incision location.
Circumferential Thigh Lift: Incisions are made around the entire thigh to improve both inner and outer surfaces. This result is similar to that of a lower body lift (torsoplasty), which is intended to correct excess skin on the lower back, hips, upper buttocks and outer thighs. It has an increased recovery time due to the more extensive nature of the procedure.
Medial Thigh Lift: This is generally only recommended for patients with very limited skin excess. An incision is made in the area where the leg and hip meet, which can allow for less visibility of scarring.
Vertical Thigh Lift: This option consists of an incision along the inner thigh to excise the excess skin.
A Revolutionary Way to Manage Scars
Embrace® Advanced Scar Therapy is the first scar management product of its kind. Its patented Active Stress-Shield technology may improve the appearance of scars after surgical procedures, such as a breast augmentation or tummy tuck. Scars are significantly less perceptible when embrace® Advanced Scar Therapy is