Associates in Plastic Surgery welcomed both new and old patients to join Dr. Alspaugh, Dr. Denk, Dr. Jacobs and their staff for a night full of food, raffles, and mini-consultations.
Attendants were offered special event-only pricing on cosmetic surgery, CoolSculpting and CO2 lasering. The raffle included prizes such as ZO health products, umbrellas, and even facials! Make sure you check out our social medias to stay up to date on information about our next event!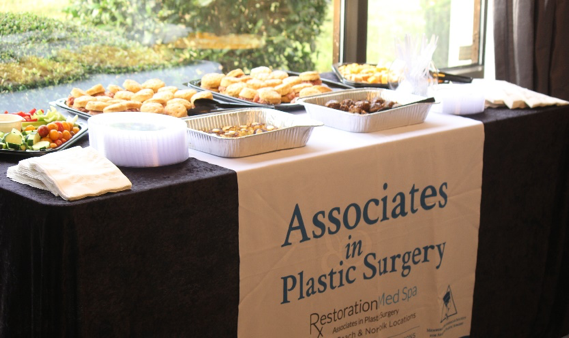 Delicious catering was provided by Bakers Crust for all of our guests to enjoy!
Dr. Jacobs and his team. (From left to right, Jenny Cardenas PC, Dr. Johnathan Jacobs, and Felica Maurer R.N.)
Dr. Alspaugh and Dr. Denk conversing
This beautiful floral arrangement was displayed at the front desk.
Our wonderful receptionist Donna Williamson, presenting one of the many gift bags that were part of our raffle.